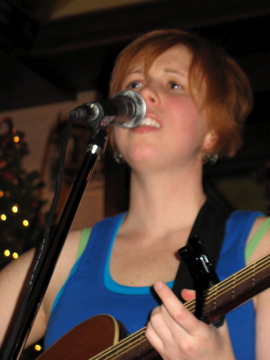 about the artist
In her career to date, Alison's work has encompassed both music and theater; the musical 4AM is her first venture combining these as a writer. After graduating from Harvard with a degree in Dramatic Literature, she worked in professional theater for several years as director, teacher, actor, and stage manager. From there Alison shifted her focus to music, writing and recording two albums and playing live shows with her band. Recently she's been adding film to the mix as she's taken a break from performing to focus on her writing and other creative efforts.
In 2006 Alison released her first full-length album, At Arm's Length: a pop-rock disc with a folky soul. Her sophomore effort, Fairytale Endings Aside (Nov. 2007), represented a return to the piano playing of her childhood and a step forward into a more soulful expression of the melodic pop sound established on her debut. Her focus on pairing intelligent, empathetic lyrics with catchy pop melodies has earned her notice around the greater Boston area and NY/NJ, where she enjoyed her music-filled childhood. She's brought her warm, energetic stage presence to such venues as Club Passim, the Paradise Lounge, the Knitting Factory and the Lion's Den, and her songs can also be heard on iTunes and Internet radio station Pandora.
Through all her work in various media, Alison is ever conscious of the teachers who helped and inspired her along the way, including Marcus Stern at the A.R.T., Jim Glossman and John Pietrowski (both primarily known in the NY/NJ area though their work extends far beyond that), Brian Crowe, Allen Artz, Will Akers, and numerous others. So much of the value and joy of performing arts is in their collaborative nature, and Alison is grateful to have worked with so many kind and talented people. She considers each new project another opportunity to share and communicate with a new group of people; her hope is to help bring collaborative arts to as many people as she can. .