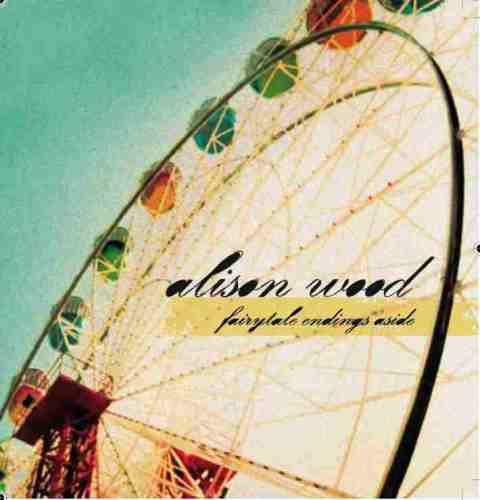 music & lyrics by Alison Wood
all songs copyright Alison Wood, 2007

Alison Wood vocals; piano, tracks 1, 2, 6, 10
Chad Perrone acoustic guitar, tracks 1, 2, 4, 7, 9; electric guitar, tracks 1, 2, 5, 6, 7, 8; percussion, tracks 3, 5, 8, 9; organ, track 1; piano, track 5, 7; backing vocals, tracks 2, 3
Dennis Carroll organ, track 2
Maxwell Zemanovic drums, all tracks except 4
Steve Belleville bass, all tracks except 3 and 9
Brian Packer electric guitar, tracks 3, 6, 8
Taylor Barefoot electric guitar, track 4
Tim Blane piano, tracks 3, 8
Matt Rafal bass, tracks 3, 9
Johanna Morrison cello, track 4
Andy Happel strings, track 3
Andy Reitz drums, track 4
Lisa Sansouci backing vocals, track 1
Kate Glynn tambourine, track 1
arranged & produced by Chad Perrone · except track 4, arranged & produced by Taylor Barefoot · with additional production by Chad Perrone
engineered & mixed by Dennis Carroll, 6media AV · mastered by Jeff Lipton at Peerless Mastering, Boston · quality control engineer: Maria Rice
art direction Abby Getman, Go Go Getman Design · photos of Alison by Laura Ayd
very special thanks to:
Mom. Dad. Jeremy. Christopher. Grandma, for all the lessons.
Kate. Laura. Lindsay. Lisa. Julia. Steph.
Chad. Dennis. Brian. Max. Steve.
Taylor. Matt. Tim. Johanna, Andy R., and Andy H.
Abby.

thanks also to:
all my family and friends, and everyone who has taught me, influenced me, challenged me, and helped me.

and to:
Dunkin Donuts, World of Liquor, the store down the street, Discmakers, the CR-V, the MBTA, Clint Eastwood, Ben Folds, Richard Marx, and the squirrel handed squirrel.